|Read time 2 mins
Edinburgh is a delightful city for any rugby fan to visit.
From the Six Nations to Autumn Internationals and stadium tours to bars, there are so many ways to support Scotland's national rugby team.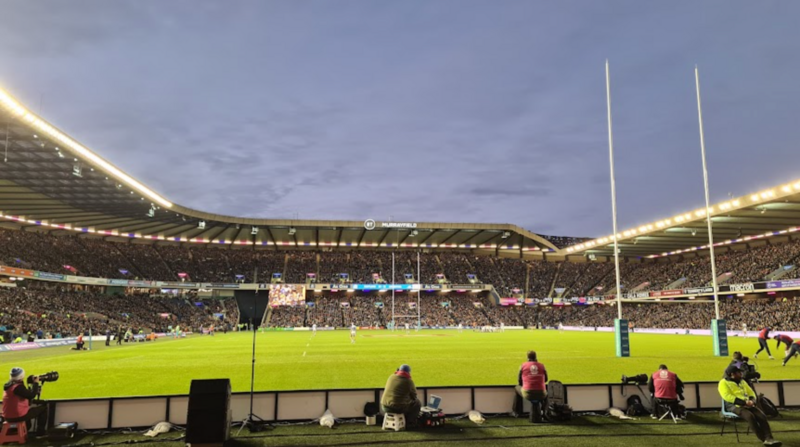 "

Spot the 'lone piper' as they play Scotland's national anthem, Flower of Scotland.
Discover Scotland Rugby
Edinburgh offers rugby fans the opportunity to experience the wonderful game during their self-catering trip to the city.
Read on to find more…
Experience rugby in Edinburgh
Murrayfield in Edinburgh is the home of Scottish rugby and seats 67,144 spectators.
The stadium is easily accessed via public transport and Scotland rugby supporters can enjoy top international matches, with the 6 Nations and Autumn Internationals taking place here each year.
Outside of the international window, rugby fans can experience rugby in Edinburgh through a stadium tour of Murrayfield.
Visit the changing rooms, TV studio and media gallery with expert guides who will take you on a journey not just through the stadium but also through the history of Scottish rugby.
There are also many great venues for watching Scotland play away from home, with several pubs and bars across the city screening matches for their customers.
Enjoy the Six Nations in Scotland
Each February and March European rugby fans descend on Edinburgh to watch their team take on Scotland in the 6 Nations at Murrayfield.
For those lucky enough to secure 6 Nations tickets an incredible rugby experience awaits.
Spot the 'lone piper' as they play Scotland's national anthem, Flower of Scotland, and enjoy other match day entertainment with musical performances.
Enjoy world-class rugby from France, Italy, Ireland, Wales and England, who play at Murrayfield each year on a rotational basis.
The most hotly contested fixture is the historic Calcutta Cup, which has been played between Scotland and England for 150 years.
Adjacent to Murrayfield is the Hive Stadium, seating 7,800 spectators, which welcomes the women's 6 Nations each year.
Meanwhile, a little further afield, in Glasgow, Scotstoun Stadium sees stars of the future compete for the under-20 6 Nations title.
Autumn Internationals at Murrayfield
The autumn sees the top national rugby sides from the southern hemisphere travel north to face, among others, the Scottish national team for the Autumn Internationals.
World Cup winners New Zealand, Australia and South Africa are regular visitors while exciting rugby is also produced by sides such as Argentina, Fiji and Tonga.
Although the Scotland rugby team does not compete for any trophy at the Autumn Internationals, it is a fantastic opportunity to witness the top names of the sport play at Murrayfield.
There is also plenty to explore in Edinburgh during the autumn, with stunning colours at the Royal Botanic Garden and Halloween fun!
Every 4 years the Rugby World Cup sees international teams competing for the William Webb Ellis trophy.
The next competition in 2027 will see 24 sides play in Australia from 1st October to 13th November.
Although this means there will not be Autumn Internationals in 2027, there are still many opportunities to cheer the Scottish national rugby team on from home or in Edinburgh!
Book a rugby trip to Edinburgh with Reserve Apartments
Whether you are planning a self-catering trip to Edinburgh in spring for the 6 Nations or later in the year for the Autumn Internationals, the city offers a fantastic rugby experience.
Even if you are not a fan of the sport, you will be quickly swept up in the excitement of Scottish rugby!
Browse our portfolio and book your rugby trip to Edinburgh today.