|Read time 3 mins
With increased success for the national team in recent years, rugby remains one of the most popular sports in Scotland.
If you are lucky enough to be in Edinburgh on a match day you will be immersed in the excitement of Scottish rugby.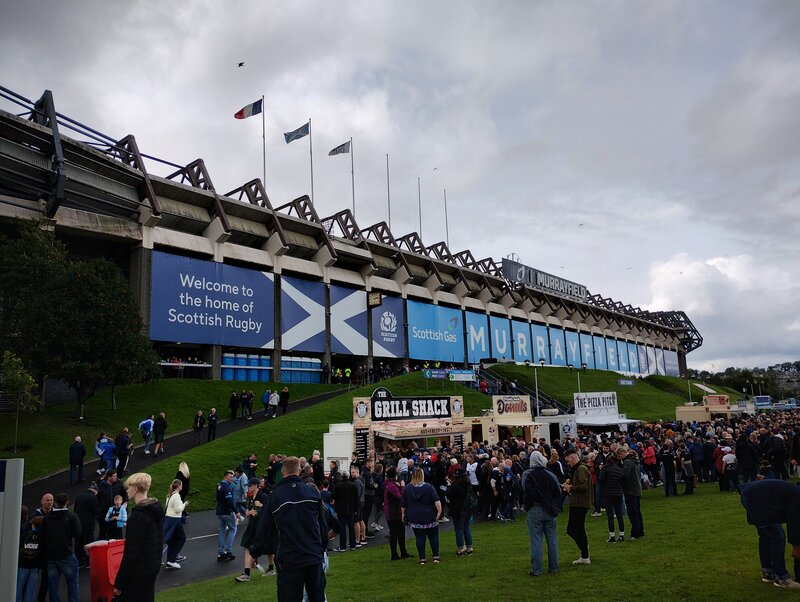 "

Soak in the pre-match atmosphere with pipe bands, watch as Princess Anne greets the players and sing along to Flower of Scotland.
Rugby in Edinburgh
But how best to take in rugby during your city break to Edinburgh?
Read on to find out more…
Scotland rugby at Murrayfield
Scotland Rugby has come a long way since its origins in 1871 when the world's first international match was played at Inverleith Park against England.
Today Murrayfield, with a capacity of 67,144, is the home of Scotland Rugby and offers a fantastic match-day experience.
This impressive stadium is hard to miss as you travel by train or tram from Edinburgh Airport and comes alive on match days during the 6 Nations and Autumn Internationals series.
Soak in the pre-match atmosphere with pipe bands, watch as Princess Anne greets the players and sing along to Flower of Scotland.
It is advisable to purchase Scotland rugby tickets the day they are released as they do sell out quickly, however, it is well worth the effort as you get to see some of the best sides in the world play in the city of Edinburgh.
Next to Murrayfield stadium, you will find a smaller stadium, seating 7,800 spectators, which is also easily accessible by bus or tram from Edinburgh city centre.
Opened in 2021, this stadium is home to Edinburgh Rugby, who regularly welcome top sides from across Europe, and is also the venue for the women's 6 Nations, with matches played each year in the Scottish capital.
Visit Murrayfield Stadium
Even if you are not in Edinburgh for a Scotland rugby match, there are still plenty of ways to enjoy the game during your stay with Reserve Apartments.
Outwith international match days there is the opportunity to explore behind the scenes at Murrayfield with a stadium tour.
Follow expert guides as they take you through the history of Scottish rugby, including the Calcutta Cup, for which Scotland and England compete each year.
The tour then continues to fascinating areas of the stadium which become hives of activity on a match day, including the BBC Sport studio, media gallery and, of course, the changing rooms.
Follow in the footsteps of greats such as Jamie Ritchie, Doddie Weir and Gavin Hastings and head down the tunnel to the pitch side to round off the tour.
For an equally unique experience at Murrayfield, purchase tickets for one of the many summer concerts which take place at the stadium.
With names such as Oasis, Harry Styles and the Rolling Stones having graced the stage in previous years, you are sure to enjoy a fun night out!
Where to watch rugby in Edinburgh
When Scotland is playing rugby away from Edinburgh, fans can follow their progress at the many watering holes around the city.
Join with others and cheer on the Scottish team no matter where they are playing.
Among the most popular venues is The Three Sisters pub on Cowgate, which often offers match day deals for food, drink and match viewing.
The Pear Tree is another Edinburgh institution, with large screens allowing optimal viewing, while The Tron is ideally located on the Royal Mile, providing a great location to continue sightseeing before or after the match.
Alternatively, if you are staying at a Reserve Apartments holiday let, you will be able to watch 6 Nations matches on Freeview TV channels, including BBC and STV.
Book a rugby trip to Edinburgh with Reserve Apartments
Whether hardcore fans or not, our self-catering visitors are guaranteed a special time when they experience rugby in Edinburgh.
Browse our portfolio and plan your next city break to Edinburgh today!