Things to do in Edinburgh city centre
|Read time 3 mins
With a portfolio of properties in Edinburgh city centre, Reserve Apartments holiday lets are the best place to stay when visiting our city!
Edinburgh city centre is packed full of fun things to do for all the family.

But where to begin? Read on for our guide to the top places to visit during your self-catering break.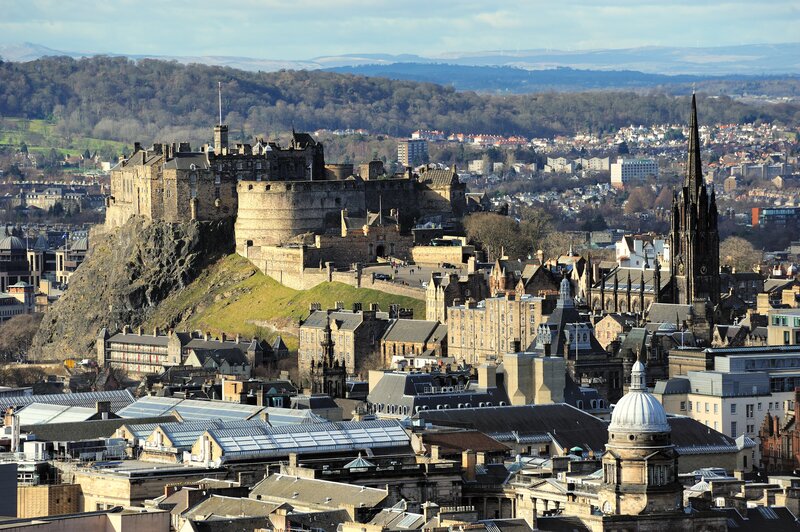 "

For those taking a family city break to Edinburgh, there is plenty to see and do.
Things to do in Edinburgh city centre
Places to visit in Edinburgh city centre
The first place for any visitor to Edinburgh is, without a doubt, Edinburgh Castle.
Situated on Castlehill, this imposing structure dominates the city's skyline and has served as a military base and royal residence since 1103.
Explore the many buildings which make up this fortress, including the Scottish National War Memorial and the beautiful St Margaret's Chapel.
Edinburgh Castle is at the top of the Royal Mile, a fantastic UNESCO heritage site full of attractions, shops and hidden closes.
Take the journey from the Castle to the Palace of Holyroodhouse, an official royal residence with great views of the Salisbury Crags in Holyrood Park.
Adjacent to the palace you will find the Scottish Parliament, a modern construction housing the nation's devolved Parliament.
Take a tour of this impressive building and learn about the architect, Enric Miralles', design which takes inspiration from the surrounding area and Scottish culture.
Further exploration of Edinburgh's city centre unearths a plethora of museums to enjoy, from Camera Obscura and World of Illusions by Edinburgh Castle to the People's Story Museum on the Royal Mile.
The historic buildings of Edinburgh themselves offer enjoyment and no more so than on Victoria Street.
Connecting the Grassmarket with George IV Bridge, this unique street offers everything from souvenirs to books, as well as restaurants and cafes.
Things to do in Edinburgh city centre for families
For those taking a family city break to Edinburgh, there is plenty to see and do.
From Our Dynamic Earth at the bottom of the Royal Mile to the Time Twisters Indoor Adventure Centre, children can spend hours discovering and learning new things.
Free activities are also on offer at many sites across Edinburgh, such as the National Museum of Scotland, where visitors can delve into nature, science, fashion and more!
The Edinburgh Writers' Museum and Museum on the Mound are other top, free attractions, providing an insight into the cultural and financial history of Edinburgh.
For self-catering guests looking for family-friendly city centre activities in Edinburgh, there are several more exciting choices.
The city is situated on an old tectonic faultline meaning there are plenty of great hills, or extinct volcanoes, to climb, all of which afford wonderful views of Edinburgh.
One such hill is Corstorphine Hill, home to Edinburgh Zoo and the Scott Tower which honours author Sir Walter Scott.
Families will also love the many themed activities during their stay in Edinburgh, including our own Harry Potter tour which takes you through the top wizarding sites in the city centre.
Ghost tours are always popular with our self-catering visitors, with several companies providing spooky experiences around the city, including at Greyfriars Cemetery.
Cultural activities in Edinburgh
Aside from the city's top attractions, Edinburgh offers visitors the opportunity to experience great cultural events.
One such event is the Edinburgh International Film Festival, hosted annually and featuring productions from around the globe.
Even if you are not in the city for the festival you can visit film locations from Trainspotting, Chariots of Fire and more.
Visitors can also settle down in one of the city's traditional cinemas to view the latest blockbusters or take in world-class shows at theatres such as Edinburgh Playhouse and Festival Theatre.
For those interested in the historic side of Edinburgh, there are two fantastic city centre National Trust properties to explore.
Church buildings also offer a great insight into both the past and present of a city and Edinburgh is no exception.
In addition to Edinburgh Castle, the city's skyline is punctuated by church spires, including St Mary's Episcopal Cathedral at Palmerston Place and St Giles' Cathedral on the Royal Mile.
After a day of sightseeing the fun continues at the many watering holes in Edinburgh's city centre.
Whether you are looking for a quiet drink or a night of dancing, the city has great nightlife to enjoy!
Book with Reserve Apartments today
As you can see, you will never be short of fun things to do when visiting Edinburgh!
Browse our portfolio and book your next self-catering city break with us today.