Edinburgh Harry Potter Tour
|Read time 4 mins
Are you an aspiring Hogwarts pupil? Do you know Expelliarmus from Wingardium Leviosa? Then you'll love visiting Edinburgh!
We've put together a walking trail around Edinburgh's Old Town so you don't miss out on any of the top Harry Potter sights and experiences!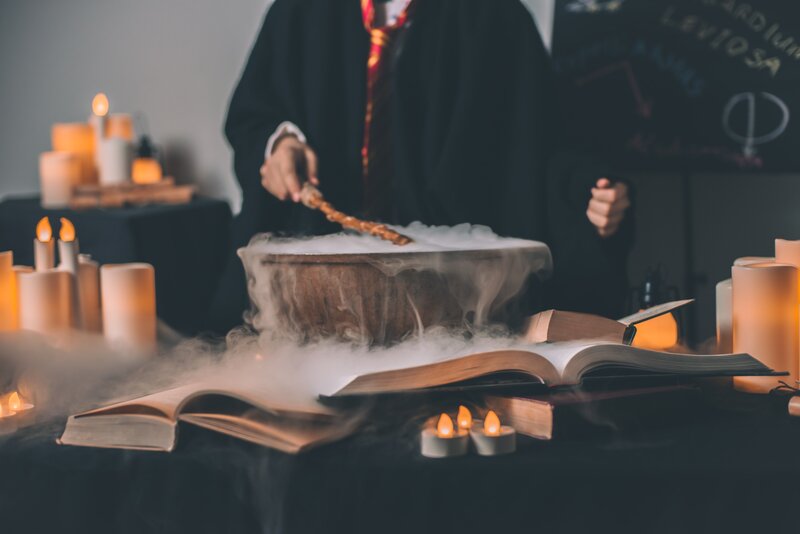 "

Edinburgh's churchyards, cafés and streets have all played a significant part in Rowling's development of Harry's story
Edinburgh and Harry Potter
As soon as you reach Edinburgh's city centre you'll immediately see where JK Rowling gained her inspiration for the wizarding world.
She moved to the city with her daughter in 1993 and, although the city itself hasn't appeared in any films, Edinburgh's churchyards, cafés and streets have all played a significant part in Rowling's development of Harry's story….
Where was Harry Potter written in Edinburgh?
As a way of getting her young daughter to sleep, JK Rowling would spend many an hour writing in several cafés around the city centre.
One of these was Nicolson's Café, also previously known as Spoon Café, on Nicolson Street.
This particular writing spot was a favourite of Rowling's and used to be owned by her brother-in-law.
With the fantastic views of the University's Old College, it's easy to see where she gained inspiration
Elephant House, Edinburgh
Next, we head down Chambers Street, past the National Museum of Scotland and right onto George IV Bridge where you'll find the former Elephant House Cafe.
This cafe saw many tourists over the years flocking to see another of JK Rowling's favourite writing spots and, with a perfect view of Edinburgh Castle, who can blame her?
Rowling did not just forge her literary path here but also followed in the footsteps of other writers such as Ian Rankin and Alexander McCall Smith!
Greyfriar's Kirkyard
Turn from the Elephant Café and at the Greyfriar's Bobby statue, head through the gates into Greyfriar's Kirkyard.
The area of the kirkyard of most interest to Potter fans is at the far side in the walled area adjacent to George Heriot's school.
During her writing sessions in various cafés around the city, the author also went for walks, seeking inspiration for her writing.
One of her preferred spots was Greyfriar's Kirkyard, a 16th-century graveyard that is said to be haunted.
In this walled area of the cemetery, we find clear inspiration for many of her characters. Keep an eye out for some familiar names…McGonagall…Potter…Scrymgeour…and, most significantly, You Know Who….
While you're in the cemetery take a look through the gates towards George Heriot's school, built in 1628.
Although it has never been officially confirmed as the school that inspired Hogwarts, there are huge similarities such as a house system and 4 towers.
Before you leave the cemetery, don't forget to leave a stick for Greyfriars Bobby!
Victoria Street
Next, we head to Victoria Street, Edinburgh's very own Diagon Alley.
Although it is not clear whether this street was the inspiration for Rowling, you will certainly feel like you've stepped into the wizarding world!
The best way to get there from Greyfriar's Kirkyard is to exit via the gate on the north side of the cemetery.
Head into the Grassmarket area – Victoria Street is the cobbled road leading upwards from Grassmarket towards the Royal Mile.
The magical Victoria Street is a typical Old Town street, packed to the brim with colourful shops selling many different items – keep an eye out for the joke shop towards the bottom!
There is one shop in particular that Harry Potter fans should keep an eye out for: Museum Context.
Walking into Museum Context feels like walking into Ollivander's Wand Shop and is rammed with Harry Potter souvenirs, including scarves and broomsticks.
City Chambers
Next, we head up the hill to the top of Victoria Street, and then join the Royal Mile heading away from the castle.
Our next stop is City Chambers, an impressive building near St Gile's Cathedral on the Royal Mile.
Look for golden handprints on the flagstones in the courtyard of the building.
These are the handprints of Edinburgh Award winners, those considered to be "outstanding individual who has made a positive impact on the city and gained national and international recognition for Edinburgh".
JK Rowling won in 2008 for her incredible contribution to putting Edinburgh on the map through her creation of the fantastic Harry Potter novels – see how your hand measures up against hers!
Balmoral Hotel
The final stop on our tour is the Balmoral Hotel on Princes Street.
To get there, leave City Chambers and turn left. When you get to the crossroads turn left and head over North Bridge towards the 19th-century hotel, identifiable by its clock tower.
Here we complete the wonderful rags to riches story of JK Rowling, as this 5* hotel is where she finished writing the Harry Potter series.
Room 552, or the JK Rowling Suite, is a little on the expensive side but is truly an experience for anyone.
If you are ever lucky enough to step inside the room, take a look at her writing desk, as well as her signature on the marble statue, or the brass owl doorknocker made in her honour.
Other wizard attractions in Edinburgh
We hope you've enjoyed this quick tour of the top Harry Potter sights in the centre of Edinburgh! If you've not quite had your fill of the wizarding world, here are a few more ideas of things to do during your time in the city.
Dark Lord Resurrection – an escape room where you can channel all of your dark magic to bring the Dark Lord himself back!
The Dog House – located close to the starting point of our tour on Clerk Street, this is the closest thing to The Three Broomsticks on this side of platform 9¾. You can even try the muggle answer to Butterbeer!
Cauldron – located in the New Town, on Frederick Street, this bar truly transports you to the world of Gryffindor, Hufflepuff, Slytherin and Ravenclaw. Here you can taste their different potion cocktails and even try making some yourself!
Book with Reserve Apartments
If you, a family member or friend are a big Harry Potter fan, plan a city break to Edinburgh today! The spooky fun also continues with the many fantastic ghost tours on offer in the city centre.
Browse our portfolio - we look forward to welcoming you!