Edinburgh Christmas Events
|Read time 3 mins
To get you ready for a magical experience, here are some tasters of Christmas in Edinburgh.
Christmas is a magical season, Edinburgh is a magical city, put the two together and you're in for a memorable time.

Despite the freezing temperatures, locals and visitors alike enjoy everything the city has to offer, especially the various Christmas markets.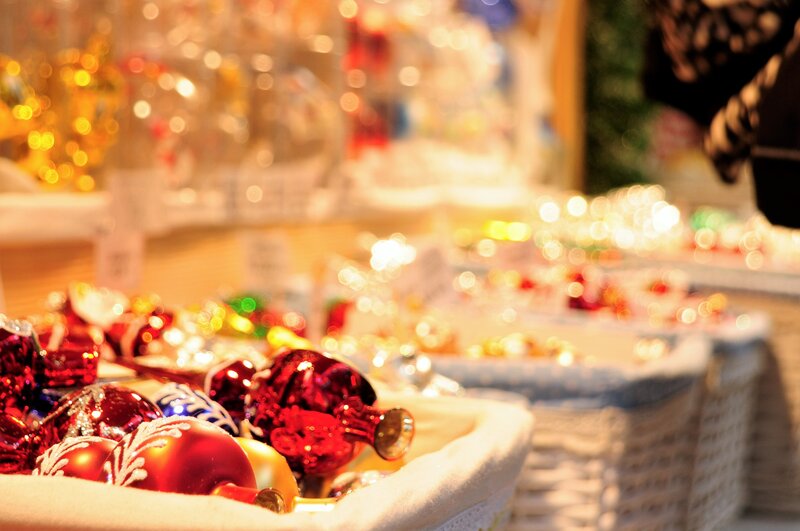 "

If you are seeking thrills and excitement this festive season, there are a variety of rides and attractions that will take your breath away.
Christmas in Edinburgh
Christmas Market – Princes Street Gardens
The market stalls in Prince Street Gardens light up the dark winter evenings and bring a wonderful touch of sparkle to Edinburgh.
Here you'll be able to shop to your heart's content for unique and romantic items across the many stalls - you'll be spoiled for choice!
Whether you're looking for something to put under the tree for a family member or friend, or a little something to spoil yourself with, at this market you'll find the work of local artists, gastronomical delicacies and homemade items from UK and European producers.
Grab a hot toddy or hot chocolate while you browse from one of the many food and drink stalls.
If you have young ones with you, make sure to visit Santa Land and see the big man himself, Father Christmas!
Edinburgh shows at Christmas
For entertainment, there is a variety of shows each year in Edinburgh to suit young and old.
The city's theatres offer plenty to enjoy, from stand-up comedy to musicals.
For a truly immersive experience, book tickets to the annual pantomime.
These traditional shows offer a fun night out for all the family, with slapstick comedy, songs and dancing galore.
Ice skating in Edinburgh
Should you fancy a little ice skating, head on over to the outdoor ice rink, which is a part of Edinburgh's Christmas markets each year.
Whether you're a beginner or an accomplished skater, lots of fun is guaranteed. You can bring your skates, or hire a pair.
If you don't fancy skating outdoors, head to Murrayfield Ice Arena, which is a short journey from the city centre.
This 3,500-seater arena offers lessons as well as open sessions for varying skill levels, and afterwards, you can enjoy a lovely warm drink at the venue!
Edinburgh Christmas rides
If you are seeking thrills and excitement this festive season, there are a variety of rides and attractions that will take your breath away.
Brave the drop tower by the Scott Monument or the flying chairs.
If you're able, open your eyes and enjoy the skyline of Edinburgh's Old Town!
There are however more gentle rides for those who like to keep their stomach, including a traditional merry-go-round - a firm favourite with the younger generations.
There is also a big wheel each year at Princes Street Gardens, from which passengers can survey Edinburgh's Christmas markets in all their glory.
Christmas tree on the Mound
Once you see the Christmas tree on the Mound in Edinburgh city centre, you know the festive season is just around the corner!
This longstanding tradition dates back to World War II when the citizens of Hordaland in Norway began gifting a tree to Edinburgh in honour of the help given by Scots during the war.
Today, a tree is delivered each November and, adorned with lights, is a true landmark of the city centre.
Celebrate Edinburgh's Hogmanay
The festive fun continues after Christmas with Edinburgh's Hogmanay, one of the most famous New Year's celebrations in the world.
With ceilidhs, concerts and a spectacular firework display at Edinburgh Castle, this is an event not to be missed.
The party continues into New Year's Day itself when another year in Edinburgh begins and people explore outdoor areas of the city, including taking a dip in the Firth of Forth!
Book a Christmas self-catering break
Don't be stuck at home this Christmas. Join the good people of Edinburgh and revel in the magic of the festive season.
Book your Christmas self-catering break today with Reserve Apartments.