|Read time 2 mins
Here at Reserve we get asked a great deal for a map of Edinburgh. To make things easy we thought we'd make our own.
We've also put together some info on each of the locations and how to find them, which you can find below the map.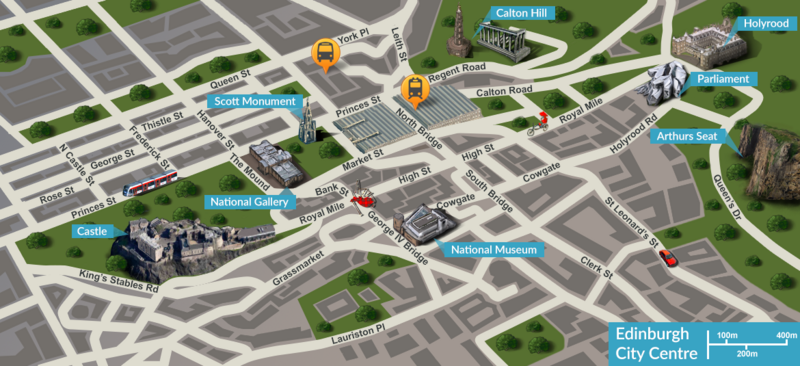 "

Edinburgh's most popular attraction, the ancient fortress has over a million people a year flock to see it loom over its surroundings
Your map of Edinburgh city centre
Edinburgh Castle
One we've talked about a great deal, but can you blame us?
Edinburgh's most popular attraction, the ancient fortress has over a million people a year flock to see it loom over its surroundings with it being visible from most parts of the city.
King David I is thought to have built the first fortress on Castle Rock around 900 years ago, and it's said that it has been attacked more often than any other building in Scotland.
The castle can make a day out in itself, as it's home to the Imperial War Museum of Scotland and the "Honours of Scotland", as the Scottish Crown Jewels are known.
The good thing is that it's just a 10-minute walk from Princes Street, via Waverley Bridge or the Mound, and so easily accessible from our properties by foot or public transport.
National Gallery
Scotland's premier art collection on The Mound boasts an outstanding collection of exhibits, including many Old Masters.
Even better, it's free to visit, although visiting exhibitions may charge a small entrance fee.
This is one of three sites operated by National Galleries Scotland and concentrates on works created between the 15th and early 20th centuries, with a strong focus on Scottish art.
The building itself, a striking neoclassical structure erected in early Victorian times is worthy of attention in its own right.
You won't have any trouble reaching the National Gallery either: it's an easy five-minute stroll from the train station.
Scott Monument
Edinburgh's main train station is named Waverley in honour of renowned author Sir Walter Scott, and his imposing monument stands in Princes Street Gardens.
Princes Street is itself one of the world's great streets for its architecture and upmarket shops, but the monument is extraordinary.
More than 60 metres high, it can offer a wonderful view of central Edinburgh — the drawback being that, to reach the highest platform, you'll need to climb the small matter of 287 steps!
Still, you do get a certificate for putting in all that effort.
The monument is only a couple of minutes walk from the station, so at least you won't have to expend too much energy getting there!
Calton Hill
Edinburgh is not a flat city, as anyone who walks around will quickly discover!
Still, it's worth making the effort when you can reach places as impressive as Calton Hill.
This is part of the capital's UNESCO World Heritage Site area, and it lies on the other side of Waverley station to the Scott Monument at the eastern end of Princes Street.
It will take only five minutes or so to reach the bottom of the hill, but after that, the going gets pretty steep!
As you walk, stop to get your breath back by admiring the National and Nelson Monuments which line the paths.
Calton Hill is also the location of the old City Observatory.
Arthur's Seat, Parliament & Holyrood
A visit to Arthur's Seat, to the southeast of the city centre, is worth the effort.
This hill was once a volcano and offers superb views across Edinburgh, as well as the well-preserved remnants of a Bronze Age hill fort.
Arthur's Seat is surrounded by the 258-hectare Royal Park, a lovely place for a stroll in good weather.
Next to the park is Holyrood Palace, a royal home since the days of Elizabeth I.
The Scottish Parliament once sat here, but today it's based in the Scottish Parliament Building on the Royal Mile, at the foot of the hill.
Buses 26 or 44 from city centre run directly to Arthur's Seat in around 45 minutes.
Book a self-catering break to Edinburgh
Book with Reserve Apartments and explore our fantastic city in person!