|Read time 2 mins
Perhaps one of the greatest features of a holiday apartment is freedom in the kitchen, allowing a break from pricey meals out every night.
Edinburgh has a fantastic range of farmers' and food markets, giving you access to some delicious local produce to have your wicked way with.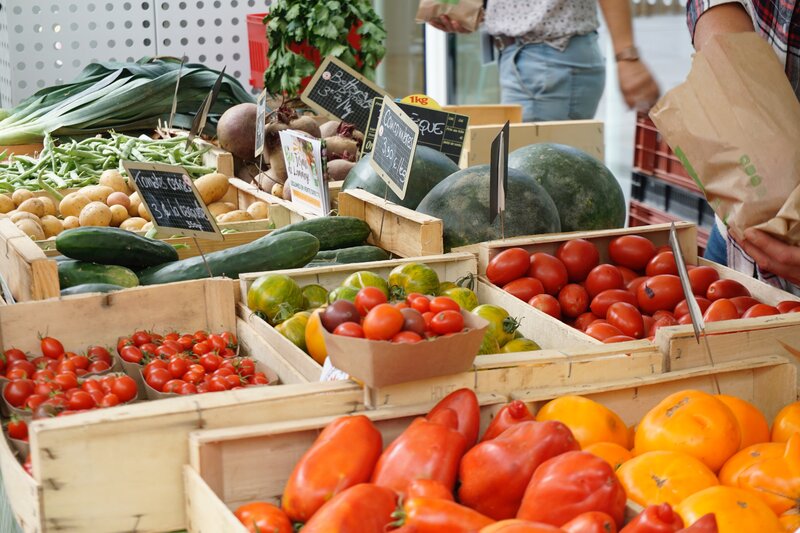 "

Head away from the chain stores of Princes Street and the St James Quarter and enjoy the many delicacies on offer at Edinburgh's markets and local businesses.
Edinburgh Markets
Read on for the Reserve Apartments' guide to the best markets to visit during your self-catering break in Edinburgh.
Farmers' Market, Castle Terrace
Castle Terrace is no ordinary farmers' market.
Firstly, it's award-winning, and then there's the view… set adjacent to Edinburgh Castle, there are no points for guessing where this market gets its name.
The local produce on offer is almost all produced by the very hands that sell it to you, including home-crafted gifts for loved ones.
As well as hearty homegrown classics, you can pick up more unusual delicacies, such as water buffalo, lobster and organic liqueurs.
Out of the Blue Drill Hall Flea Market
If Edinburgh is lacking one thing, it's a decent variety of flea markets.
However, on the last Saturday of every month, locals flock in their hundreds for the hottest (free) ticket in town, the Edinburgh Flea Market.
Located just off of Leith Walk in an old military hall, the market is packed full of vintage, retro and bespoke wares.
Rummage to your heart's content amongst clothes, accessories and home goods, before sitting down with a well-deserved coffee and cake.
Stockbridge Market
This is a lively little event held every Sunday at the junction of Hamilton Place and Deanhaugh Street/Kerr Street, in Stockbridge.
It attracts Edinburgh residents from far and wide and offers a great variety of tasty street eats, fresh produce, and handcrafted knick-knacks.
Variety is key at this market, and you can pick up anything from black pudding scotch eggs to gourmet dog treats.
All senses are catered for, as you can also enjoy live music courtesy of local artists.
Grassmarket Market
The Grassmarket in Edinburgh, home to some great pubs and bars, becomes even more lively each Saturday as market stalls appear.
There is a wide range of hot food on offer at this market, such as Ethiopian cuisine and paella, ideal for a stop-off during a day of sightseeing.
If you are looking for something to cook at your Edinburgh self-catering property that evening, browse stalls such as Caithness Smokehouse and The Olive Stall.
You can even purchase jewellery, records or dog accessories!
Leith Market, Dock Place
Named as one of the top 10 things to do in Leith in 2022, Leith Market brings together some great independent, local traders for visitors to browse.
With alcoholic beverages from Edinburgh Cider and vegan products from stalls such as Missy Vegan Bakes and Kama Vegan Bakes, you are sure to find something to enjoy!
The market can be found each Saturday at Dock Place, located just off Commercial Street and not far from the Ocean Terminal shopping mall.
Shop local in Edinburgh
If you are looking to support local businesses during your self-catering break in Edinburgh, you don't have to look far.
In the Old Town alone you will find a wide range of options, including Armchair Books on West Port where you will find a great collection of second-hand books.
The Fudge Kitchen at the bottom of the Royal Mile, meanwhile, offers a fantastic selection of sweet treats, including the shop's speciality, cranachan fudge!
Don't forget the many other ways you can support our great city throughout the year, from festivals and exhibitions to celebrating with loved ones.
Book with Reserve Apartments
Head away from the chain stores of Princes Street and the St James Quarter and enjoy the many delicacies on offer at Edinburgh's markets and local businesses.
Browse our portfolio and book your next Edinburgh city break today!