|Read time 5 mins
Edinburgh Castle is steeped in history, providing home, safety, and defense for many throughout history.
Edinburgh Castle is one of the most iconic buildings in Edinburgh, if not Scotland, and no visit to Edinburgh should be without a view of the majestic castle on the hill.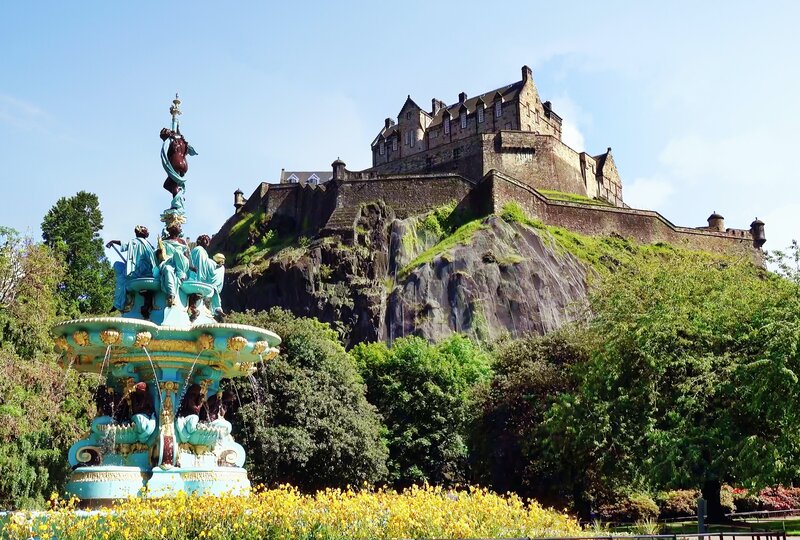 "

The sound from the One O'clock gun has become a well-loved part of daily Edinburgh life.
Some of our favourite Edinburgh Castle facts
There are a number of lesser known Edinburgh Castle facts that we think are very interesting.
For instance, did you know that the name Edinburgh Castle can be misleading since it's not so much a single castle as a complex of buildings from different eras of history?
One of these is the oldest surviving building in the city of Edinburgh, St Margaret's Chapel, which dates back to the early 12th century.
What else is Edinburgh Castle famous for?
The castle is also home to the Scottish National War Memorial, a moving memorial to fallen soldiers, and the National War Museum of Scotland.
There are plenty more facts on its history which visitors will find out.
There's definitely no shortage of activities when paying the castle a visit; your problem is more likely to be trying to fit everything into a single visit.
Who lived in Edinburgh Castle?
Edinburgh Castle has been home to a number of Scottish and English monarchs as well as military troops and the 'sheriff of Edinburgh' at various points throughout history.
A number of fierce battles have centred on the controlling of the castle as whoever was in control of the castle ruled Edinburgh.
As the capital of Scotland this then resulted in the rulers being seen to be in charge of the whole country.
The battles began in the late 13th century when Edward I tried to take the throne and continued on to the 16th century when English forces attempted to capture Mary, Queen of Scots in a siege that lasted for 2 years.
The castle was eventually taken over by English forces in 1650 after Charles I was executed.
Many failed attempts were then made to recapture the castle up until 1757 when the Castle was used to contain English military prisoners (which continued until the early 19th Century).
In 1927, certain parts of the Castle were then made into the Scottish National War Memorial which as mentioned above remains, alongside it being a military base and world-famous tourist attraction.
When was Edinburgh Castle built?
In 1103, Edinburgh Castle was built on Castle Rock (which was formed as the result of a volcano erupting several hundred million years previously) that had been both a royal residence and military base for a long time. This makes the Castle over 900 years old.
Who Built Edinburgh Castle?
The Son of Saint Margaret of Scotland, King David I, built an imposing structure (which eventually stood at 443 feet - 135 metres above sea level) that came to be known as Edinburgh Castle, with some of the original construction continuing to stand even today.
What do Edinburgh Castle tickets cost?
A trip to Edinburgh Castle is certainly not free.
It's not cheap either - but the cost is probably justified; the castle offers the chance to see much of Scotland's history come to life, with the added bonus of views across the entire city, stretching as far as the Firth of Forth over to neighbouring Fife.
It's also fascinating to see inside the buildings that dominate the Edinburgh skyline from their perch on an extinct volcano.
So successful is the castle, in 2016 it become Scotland's most popular tourist attraction.
Some of the castle's exhibits are enough to justify a trip themselves, for example, the Stone of Destiny, Scotland's famous coronation stone.
It resides in the castle's Crown Room, alongside the Crown Jewels, following its 1996 return from Westminster, after 800 years in exile from its native land.
Edinburgh Castle Opening Times / Hours
If you're worried about fitting Edinburgh Castle into a day then you've nothing to be concerned about. The opening times do vary slightly from winter to summer however it's open for most of the day.
Visiting the castle around lunchtime also brings with it the added bonus of seeing the 'One O'clock Gun' firing its daily bombardment.
History tells us that it was originally intended to help sailors on ships in the Leith region of the city check their timing for navigational purposes, the gun has long since lost any nautical significance.
This sound has become a well-loved part of daily Edinburgh life.
Edinburgh Castle Events
Another way to see the castle up close is to buy a ticket to the Edinburgh Military Tattoo each August during the Edinburgh International Festival, when the esplanade serves as a stage for pipe bands and heroics from around the world.
Tickets must be bought well in advance, as they usually sell out.
However as you would likely expect, nobody needs a ticket to watch the fireworks which are set off from the castle wall at key points in the Edinburgh calendar, such as Hogmanay and the end of the Festival.
Visiting Edinburgh Castle with family
It's also worth noting however that there are some steep climbs involved in a visit to Edinburgh Castle.
Visitors with babies would do best to leave the buggy at home and use a sling or back carrier. Some doorways, especially the medieval ones, are narrow and a double buggy is almost impossible.
If, at the end of your visit, you're tired after all that climbing and history exploring, I can recommend a reviving cup of tea at one of the many cafes in and around on the Royal Mile, a couple of minutes' walk from the castle entrance.
With so much to see and do at the castle, you are likely to have deserved that cuppa.
Book with Reserve Apartments
Edinburgh Castle is on the doorstep of many of our Edinburgh apartments, that you can rent for your stay in Edinburgh.
View our portfolio and book your next self-catering break today.