18 Niddry Street South, Old Town, 170 metres from Royal Mile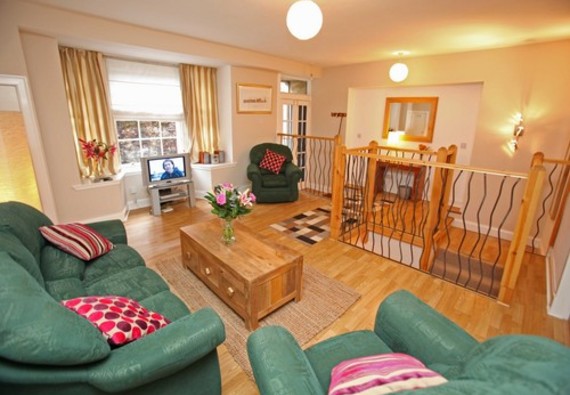 Property ID

26097

Sleeps

2 (+2)

Bedrooms

1

En-suite bedroom(s)

1

Bathroom(s)

1

Floor

Ground floor
This beautifully decorated split level duplex truly is a hidden gem in the heart of the city. It is the kind of apartment that you would like to own and is a perfect retreat for both long and short stays. The property is located in walking distance of many of Edinburgh's popular tourist attractions and is close to a lively nightlife area making it much more suitable for groups there to enjoy that aspect of Edinburgh.

LOUNGE
On entering the apartment you step straight into a spacious lounge area which is dominated by the wooden staircase in the centre of the room. Tastefully decorated there is TV, DVD player and stereo system.

KITCHEN
The kitchen is fully fitted and equipped with microwave oven, gas hob and electric oven and crockery for up to four persons. A fold away kitchen dining table is perfect for up seating up to four. There is a separate utility room with washing machine and American fridge.

The wood panelled apartment hallway provides plenty of space for luggage and coats etc and there is a toilet and shower located off the hall. Linger a while to check out some of the scenes of bygone Edinburgh.

BEDROOM
The bedroom takes up the whole of the lower level and has a beautiful en-suite bathroom with shower. Double glass doors at the entrance to the bedroom provide privacy from the lounge.

ADDITIONAL SLEEPING AREA
This is a large windowless room situated next to the wc/shower room on the main floor that contains a double bed and has ample storage and hanging space. Due to this room not being a proper bedroom because of the lack of a window this apartment has been priced just slightly above the rates for a 1 bedroom property as it is marketed as such. Ventilation is provided by leaving the door ajar or a externally vented fan.

SHOWER ROOM
Upstairs next to the additional sleeping area, is serviced by a shower-room with power shower. WC also here.

Additional information
* Linen and towels are provided and are changed weekly for rentals of 1 week or more.
* The airport bus drop off point and main railway station are 10 minutes walk.

A deposit of 25% is payable on booking and the outstanding balance of the rental price must be received 2 months prior to your arrival date. For bookings made less than eight weeks before your arrival date the whole rental price falls payable at the time of booking.


Please note that ESC only provides an enquiry & booking service for this property. The owners manage the operation of the property themselves.
Sleeping arrangements The second sleeping area is technically a small bedroom but it does not have a window. It has a double bed in it.
Parking Secure indoor parking is available at an additional cost starting from £15 per day for a 2 night stay and is subject to the same duration discount scheme as the number of nights. Alternatively, Daytime Street parking is available operated Mon - Sat 08:00 - 18:30 but is expensive, various other longer term parking solutions can be found in the area and start form approx 16 pounds per day.
General facilities

Linen provided

Yes

Bath towels provided

Yes

Hair Dryer

Yes

Washing machine

Yes

Microwave

Yes

Fridge/freezer

Yes

Oven

Yes

Iron / ironing Board

Yes

High chair

Yes

Entertainment

Satellite/cable

Yes

DVD player

Yes

Radio

Yes

TV

Yes

Internet access

Internet access

Yes

WiFi

Yes

Optional extras

* These extras can be selected when making your booking.
Other facilities
1 x shower room with WC. This is a no smoking apartment.
Check-in/out
Check-in from14:00
You will be asked to check-out before10:00
18 Niddry Street South, Old Town, 170 metres from Royal Mile

location
Nearby
Gym
Shops
Bar / Pub
Restaurants
Café
Galleries
Internet Café
Museum
Nightclub
Theatre
Super Market
Express Super Market
18 Niddry Street South, Old Town, 170 metres from Royal Mile

reviews
18 Niddry Street South, Old Town, 170 metres from Royal Mile

enquiries
18 Niddry Street South, Old Town, 170 metres from Royal Mile

availability

&

booking
Availability
Checking availability....